---

Buyers
---

Sellers
---

Finance
---

Home Improvements
---

Moving
Staging Your Living Room for Sale
When you need to relax after a hard day at work, or to have a few friends over for the game, the living (or family) room is the place to go – your own little realm of tranquility. But what has been comforting for you may not be for someone else, so you will have to emotionally depart from the room. Like most of us, you're probably not an interior designer, so your living room may be a bit out-dated and disordered. What may have worked for you in the past might not work for someone else or appeal to buyers. Similarly to all the other rooms in your home, staging is a vital aspect of resale. Imagine you're walking through a showcase of a home and your living room spontaneously appeared as the main model; how would you want it to look?
Gutting it out
If you like to keep lots of things in your living room, particularly when you have a television in there, you are going to need to gut out most of your possessions. Start removing all the unnecessary items: books, children's toys, magazines, mail, etc. For homes with children, the living room can be their play pen, but you're going to have to appear like no child has been there – unless you're showcasing the home to a family. Organizing their toys in a decorative basket or cabinet will be very appealing to the emotion of buyers. If you have a book or movie collection in your living room you may also have to re-organize. Also, remove all photos of yourself and your family, unless they are really large. If you have paintings or pictures that suit the room quite well, then keep them there.
Creating space
If your living room has a claustrophobic atmosphere, you may have to remove some of your furniture to create more breathing room. However, don't remove all of it. A common mistake by sellers is that they believe that removing most of their furniture will allow the prospective buyer to better visualize their things. This is true – you want them to visualize – but they will have an easier time when there is a base there.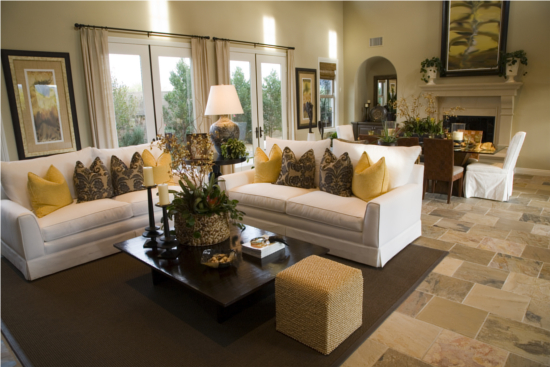 Rearrange your furniture to a system that not only looks good, but also creates optimal space. You may have to a bit of experimenting for this and ask a friend or your realtor what they think is best. Adding a mirror to a wall, maybe in the place of large photo, may be a viable way to create the illusion of more space.
But if you lack considerable amount of furniture, then you're going to have to add some items in the living room. For example, if you have a corner of the room that is bare and naked, spice it up with a nice-looking house plant, end table, or a large scale home decor accessory such as a tall floor vase with seasonal branches. These are often available at a big box stores at relatively inexpensive prices.
Refreshing the room
Depending on the condition of the room, you're probably not going to have to burn a hole in your wallet to refresh the look a bit. But, if the room looks a bit shabby, you may have to renovate – especially if the carpets are torn or there is considerable damage to your furniture.
Even if your living room is in solid condition, it's still a good idea to clean it and change the look of it a bit. If you have carpet or hardwood floor, rent a steam or carpet cleaner from a local company, and spend afternoon just soaking those things up – you'll be surprised what they can do. As well, wood lemon oil cleaners are great for rejuvenating the look of your wood coffee and end tables.
Another beneficial approach is renting appealing looking furniture. Ask your real estate professional who would be a reputable vendor. Short term lease arrangements are possible to breathe new life into a room and showcase their potential. With the small investment of rented furniture, your home value will increase and enhance your chances at a sale.
Look for any visible mess, damage or wear n' tear in your living room and fix it up. Sometimes realtors will also recommend repainting your walls to a neutral colour. If you're into really bold and strong colours, some prospective buyers may be turned off by this. Neutral colours are a great way create the look of more space, and can create a more relaxing environment. As well, visitors can easier visualize the colours that suit their personal taste. Since living rooms can be typically larger, you don't have to go with extremely bright colours. Light browns, or another lighter neural colour would work well. Eggshell paint is usually used for the living room, but you can ask your real estate representative or the associate at the local paint store what works best for your room.
Remember to have enough lighting in the room so all its best features are exposed. As well, adding some decorative pieces and maybe a small bowl of candy can lure in viewers. And don't be shy to ask your real estate agent for help; they have years of experience with staging and selling homes.